How to Draw a T-Shirt Step by Step
This tutorial shows an easy way to draw a common t-shirt with a basic design in six steps. It includes illustrated drawing examples and quick explanations.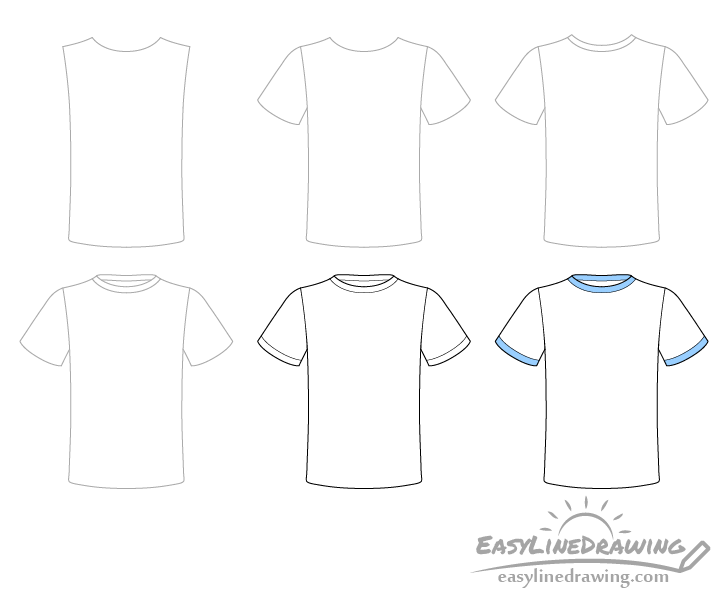 You can see the drawing steps for the t-shirt in the preview above.
A t-shirt is fairly easy to draw but you should still start in pencil and make light lines in case you make a mistake. You may also want to have a black/pen marker handy to trace over your lines later on.
Step 1 – Draw the Main Part of the T-Shirt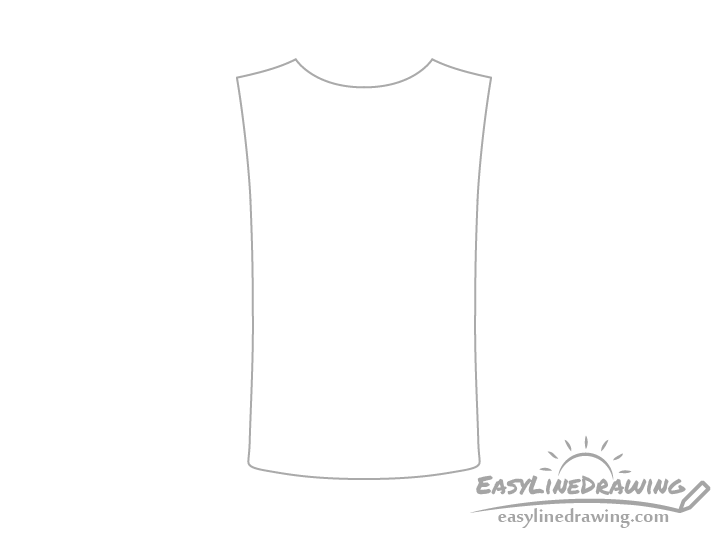 Begin by outlining the main body of the t-shirt. Draw it's shape with a several smooth curves starting with the sides, next add the shoulders, neck and finally the bottom. Also make the overall shape slightly wider towards the top.
Step 2 – Draw the Sleeves
On each of the sides add the sleeves and this time make the overall shapes slightly wider towards the bottom. Draw the outer part of each sleeve with a curve at the top that then changes into a pretty much straight line as it goes down. Draw the bottoms with nice and smooth curves and the inner sides with very light curves.
Step 3 – Draw the Neckline
On top of the neck add the neckline. Simply draw a second curve slightly smaller than the first one (a little bit up from it) and connect the two on the sides.
Step 4 – Draw the Back
Add the back of the neckline as shown in the example with a slight downward curve in the middle middle.
Step 5 – Add a Design & Finish the Line Drawing
Finish the line drawing by first adding a pair of stripes to the sleeves (one for each). Simply draw another pair curves similar to the ones that define their bottoms a little bit above them. Next trace over your drawing with a black pen, marker or darker pencil lines.
Step 6 – Color the T-Shirt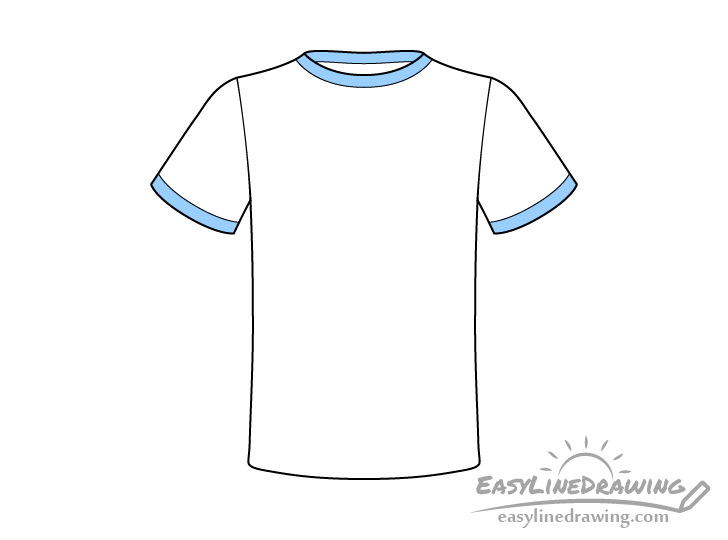 In this case the t-shirt will be mainly white with just a few stripes of color along the neckline and sleeves. In this case they will be light blue.
You can feel free to color the t-shirt anyway you like using any medium (colored pencils, paints, markers, etc…). For example you can change up the color pattern, use gradient or make the shirt one solid color. You can also just leave it white.
Conclusion
This tutorial shows how to make a fairly basic drawing of a common t-shirt. Once you have the outline of the shirt you can also have some more fun with it and make the drawing more interesting by adding other design elements such as different patterns or a picture or logo that you like.
If you enjoyed this tutorial and want to try some more that are similar also see: