How to Draw a Kiwi Step by Step
This easy tutorial shows how to draw a kiwi in just four steps with detailed illustrated examples and quick drawing tips.
You can see the drawing step for the kiwi in the example above.
While the tutorial is very short and simple it's recommended that you do the first couple of steps in light pencil lines just in case you make a mistake. You can trace over your drawing with a black pen or marker in step three.
Step 1 – Draw the Outline of the Kiwi
Begin with an outline of the kiwi. It's shape should be close to an oval but with somewhat flattened front and back.
Step 2 – Draw the Details
To one side of the outline add the little bit where the kiwi was attached to the tree. Drawn from this angle it will again look a bit like an oval in shape but with a very uneven outline.
You can pretty much just draw this part as a series of broken up wavy lines as shown in the example.
Step 3 – Add the Fuzz & Finish the Line Drawing
To finish the line drawing you can first outline it with a black pen or marker as was mentioned at the start. If you don't have one handy simple darken you lines with the pencil. Next add a hint of fuzz to the kiwi as a series of little dashes along it's bottom that sort of "fan out" in the direction of the curve (see example). You don't need to draw them over the entire kiwi as that will be a lot of work and won't really make it look any better.
When drawing the fuzz you can do it in pen/marker right away just be careful not to make the little hairs too long.
Step 4 – Color the Kiwi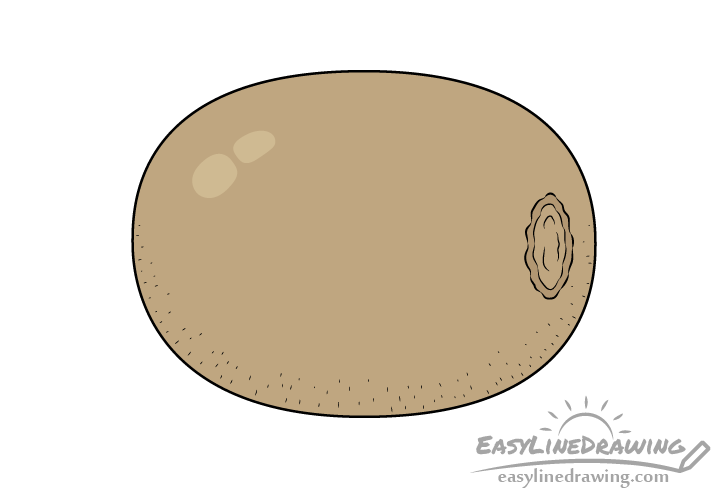 Before coloring be sure to leave room for a couple of highlight spots (light reflecting from the kiwi). You can outline these beforehand just to make sure you don't trace over them. Either do it very lightly with a regular pencil or with a brown one so that the outlines simply blend into the color.
Make the kiwi a golden brown. To get this color you can either mix brown and yellow paints or shade over it with a brown pencil and then a yellow one. You can also add a slightly darker brown around the little tip/cap.
As kiwi's don't have a particularly reflective surface you shouldn't leave the highlights a pure white like you could for some other objects. Instead also color over them with a yellow brown (slightly more yellow) but make this color lighter than the rest of the kiwi so that the highlights stand out just a bit.
Once done coloring you should be finished with the kiwi drawing.
Conclusion
Kiwi's are fairly easy to draw as they have fairly basic shapes without too many details. Weather you're drawing for fun or for practice hopefully you've enjoyed this quick tutorial.
If you would like to try a few more like it also see: