How to Draw a Strawberry Step by Step
This short and fairly easy step by step tutorial shows how to draw a strawberry. It can be good fore beginners that want to draw something nice but simple.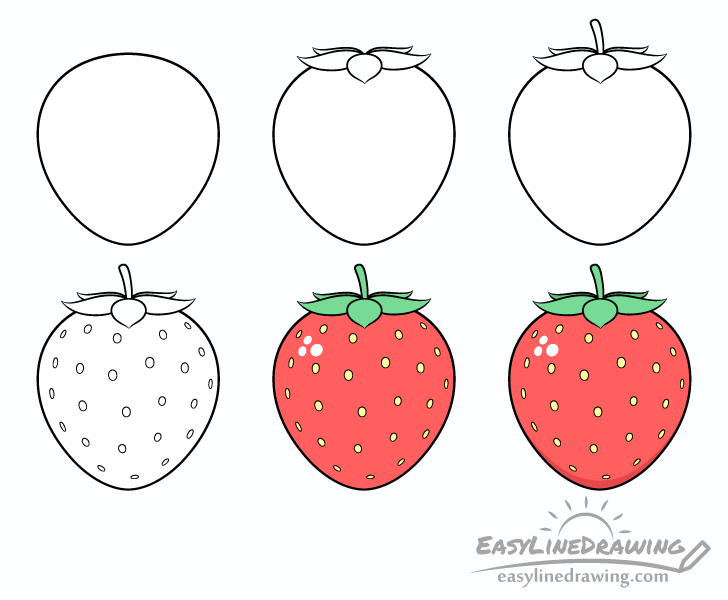 Step 1 – Draw the Outer Shape of the Strawberry
Start the strawberry drawing by fist outlining its outer shape in pencil. Don't press on the pencil too hard so that you can easily erase the lines in case you make a mistake.
Step 2 – Draw the Sepals
Now draw the sepals (little leaves at the top of the strawberry) as well as the tip that was attached to the stem. You can pretty much draw each of the sepals with just two curved/wavy lines.
Step 3 – Finish the Line Drawing
To finish the line drawing add in the small shapes of the seeds. Try and draw the seeds in a way that makes them sort of "flow" along the shape of the strawberry. You can do this by drawing them at angles that somewhat matches the outer curves of the berry towards the outer edges. Draw the seeds closer to the middle with less of an angle and the ones in the very middle just vertically.
You can also draw the seeds on the sides slightly thinner and the ones in the middle slightly wider.
Drawing the seeds in such a way will give the strawberry a more three dimensional appearance.
Once you are done with the seeds go over the entire like drawing with a pen, marker or darker pencil lines.
Step 4 – Color the Drawing
Finally for some basic color you can simple make the strawberry red, the sepals green, and the seeds a light yellow.
Conclusion
This is a very simple tutorial but the final example still looks quite nice, especially so because of the little trick of using the seeds to give the strawberry a more 3d appearance.
If you like this tutorial also check out: