How to Draw a Spear Step by Step
This tutorial show an easy way to draw a spear. It includes five steps in total with detailed illustrated examples for each of them.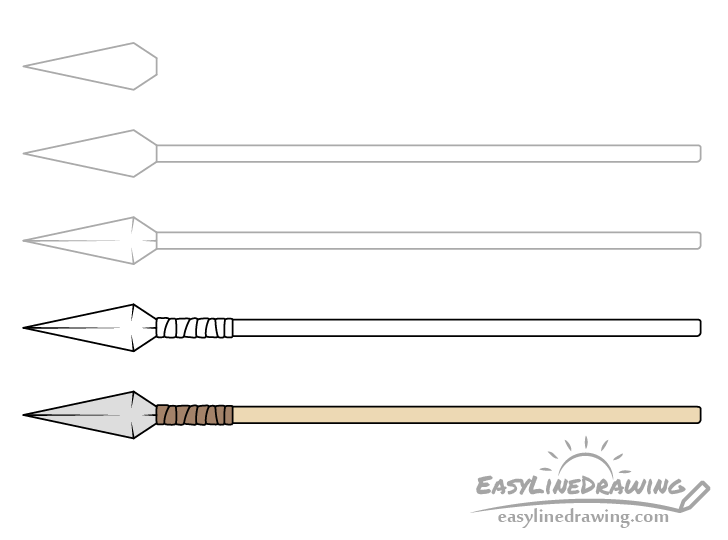 The example is of a very basic spear with a simple design that should be quite easy to draw. A preview of the included stages can be seen in the image above.
As you will need to do a little bit of erasing in one of the steps you should start the tutorial in pencil and make light lines. You can trace over your drawing later on with a black pen or marker.
You may also notice that in the preview the spear is drawn horizontally but in the steps below it's drawn on an angle. Go with whatever option you like best. The provided drawing instructions can be applied to either one.
Step 1 – Draw the Head of the Spear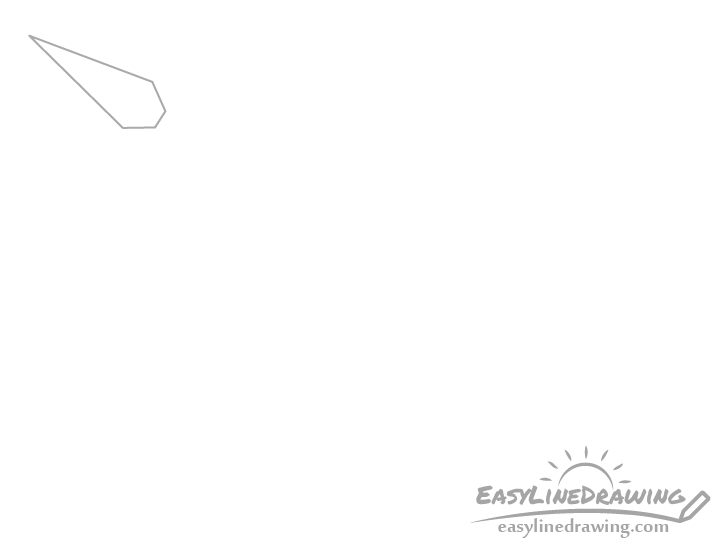 Begin by drawing the head of the spear shaped as shown above. Make the part that goes towards the tip longer and the par that goes towards the back shorter. Also be sure that you position it in such a way as to have enough room left on your drawing area for the long pole.
Step 2 – Draw the Pole
Onto the head add the pole. Make this quite long and fairly thin in comparison. You can define it with two straight parallel lines that join at the back.
Step 3 – Draw the Edges
Inside the head draw four lines that start from each of the corners (as well as the back) and go towards the middle but don't actually join. This will make the head appear more three dimensional and help emphasize it's sharpness.
Step 4 – Finish the Line Drawing
To finish the line drawing of the spear first add some leather wrapping to the pole just behind the tip. You can erase the little bit of the pole near the tip before you draw it in.
Next make sure that your drawing looks good and trace over your lines with a black pen or marker. If you don't happen to have one around you can simply darken them with the pencil.
Draw 5 – Color the Spear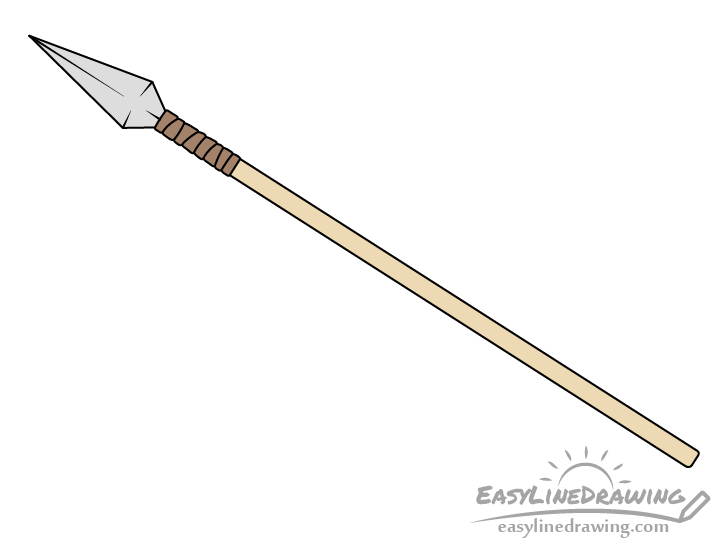 Finally to color the spear you can make the tip a light grey, the leather wrapping a dark brown and the pole a light yellow/brown.
You can use pretty much any medium you like (paints, markets, colored pencils, etc…) or a mix of a few of them.
Once done you should have a finished drawing of the spear.
Conclusion
Drawing a simple spear like the one in this tutorial is generally fairly easy. If you find that you are having trouble making the long straight lines such as the ones for the pole you can use a ruler to help you.
Hopefully you've found this tutorial helpful. For more like it also see the following: