How to Draw a Ruby or a Gem Step by Step
This tutorial shows how you can draw a ruby or another type of gemstone in just four steps with easy line drawing and coloring examples.
You can see a preview of the drawing steps in the image above. The example in this tutorial shows a fairly generic shape that can be used to show a ruby or a different type of gemstone. You can change the type of gem you draw by simply changing the color.
Start the drawing in pencil and make light lines that are easy to erase in case you make a mistake. If you find straight lines difficult to draw you may wish to use a ruler to help you but if you want to improve your drawing skills it may be better to try and make them by hand. You might also want to have a black pen/marker to trace over your lines later on.
For drawing a different gemstone shape also see:
How to Draw a Diamond Step by Step
Step 1 – Draw the Outline of the Ruby/Gem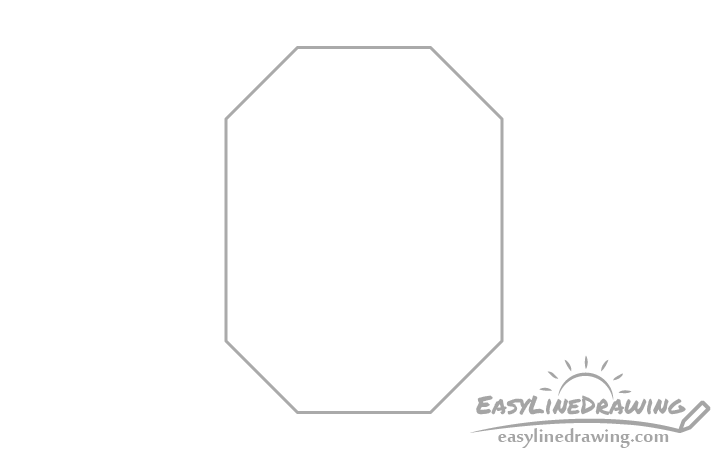 Begin by drawing an octagon as shown in the example above. Another way to think of this shape is as a vertical rectangle with chopped off corners.
Step 2 – Draw the Inner Surface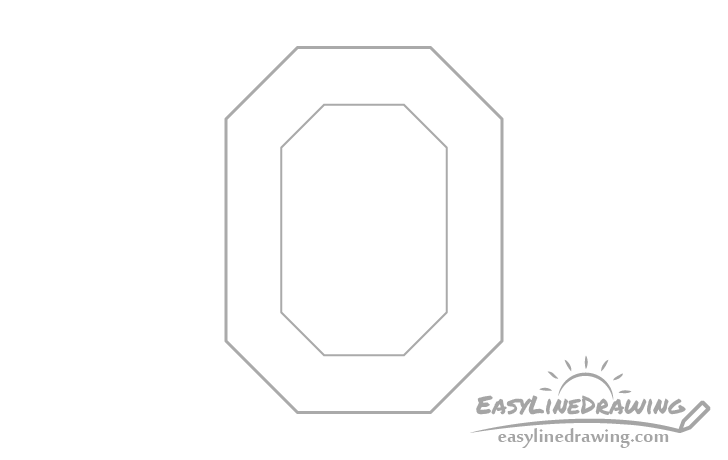 Inside the first octagon draw a second smaller octagon to create the "table" (upper side of the gem).
Step 3 – Draw the Edges
Project a series of lines from the corners of the larger octagon to the corresponding corners of the smaller inner octagon or vise versa to get the edges of the ruby.
Once done you can trace over your drawing with a black pen or marker as was mentioned at the start of the tutorial. Alternatively you can simply darken them with the pencil.
Step 4 – Color the Ruby/Gem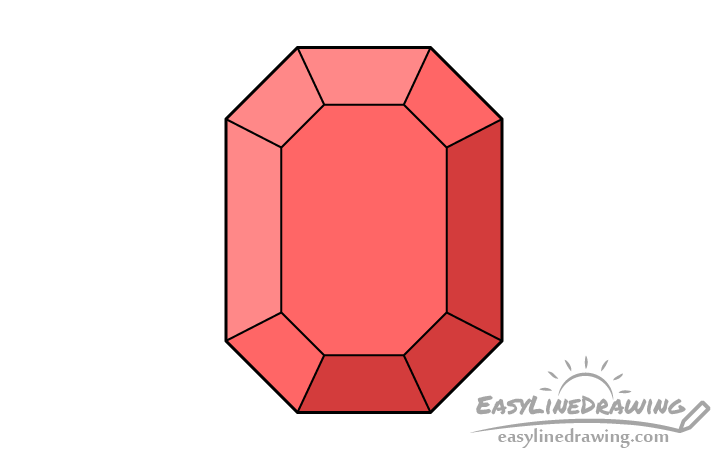 To color the ruby colored pencils may be the best option as they can allow you to easily create different shades of a particular color.
To give the gem a more three dimensional look you can shade it's upper/left areas a lighter variation of a color, the center, lower left and upper right a regular color and the rest a darker variation of color.
If for example you want a ruby you can make a lighter red/pink color by lightly pressing on the pencil and you can get a regular red by applying more pressure to one. To get the darker red you can lightly shade over the regular red with a normal pencil or use a dark red colored pencil if you have one.
Conclusion
The shape drawn in this tutorial can be used to show a variety of different gemstones. A ruby is just one example of these. If you want a different type of gemstone you can simply change the color to match whichever one you want to draw.
If you liked this tutorial and you may also wish to try some of the following: