How to Draw Balloons Step by Step
This tutorial shows how to draw a bunch of balloons in six steps. It includes very simple line drawing and coloring examples.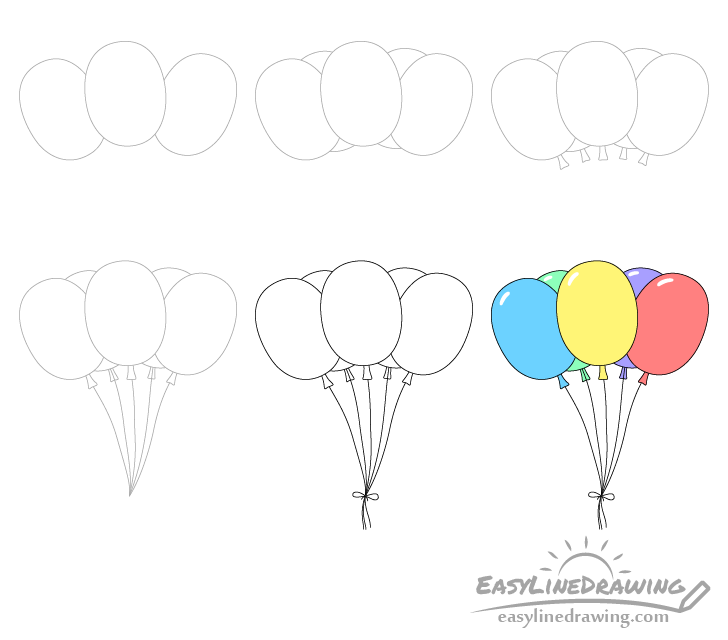 You can see a preview of the drawing steps above. Overall this is a very easy tutorial that even complete beginners to drawing can try.
While the tutorial is very simple you should still start the drawing in pencil and make light lines that you can easily erase in case you make a mistake. You can darken your lines later on.
Step 1 – Draw the Outline of the Balloons in the Front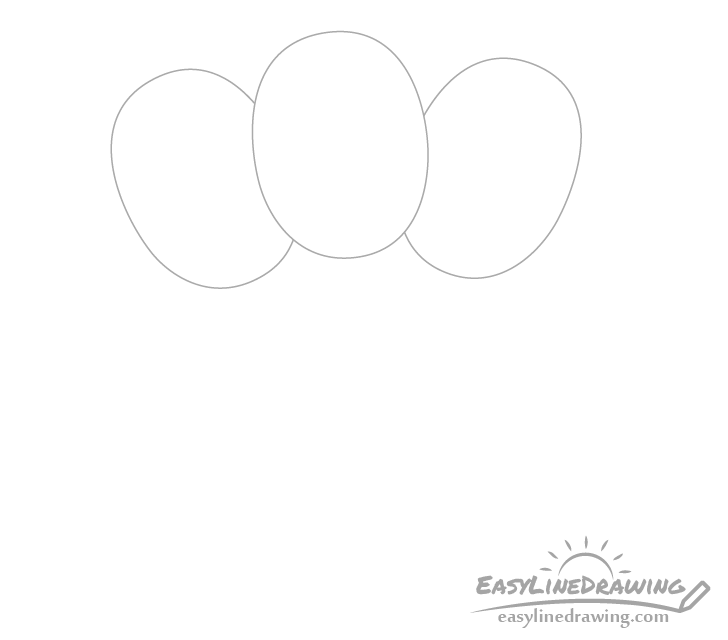 There will be a total of five balloons. Begin the drawing by outlining the shapes of the three in the front of the bunch. Draw them with oval shapes sort of "fanning out" towards the top of the page/drawing area.
Also draw the side balloons partially hidden behind the one in the middle. Sort of like they peeking out from behind it.
Step 2 – Add the Balloons in the Back
Now add the two remaining balloons in the background. Most of their shapes should be hidden behind the tree in the front with just their tops and bottoms showing.
Step 3 – Add the Bottoms of Each Balloon
For each of the balloons add the bottom part where the air is blown in. You can make these somewhat random in shape but generally they should be narrower towards the top (where they are tied) and wider towards the bottom.
Step 4 – Draw Strings
Going down from the parts in the previous step add the strings.
Depending on which side the string is coming down from it's base might be hidden behind the balloon.
You can pretty much draw each string with one line. All of these should then meet at one point towards the bottom of the page/drawing area.
Step 5 – Finish the Line Drawing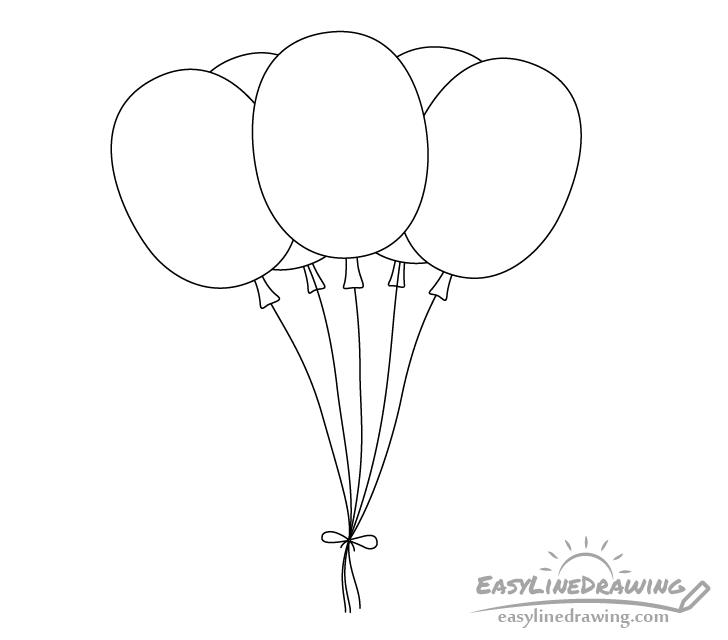 To finish the line drawing first add little bow tie like shape where all the strings meet that ties them all together.
And from there add a few more wobbly lines to show the strings hanging down.
Once done drawing the strings you can trace over your drawing with a back pen or a thin black marker. If you prefer you can also simply darken your lines with the pencil.
Step 6 – Color the Balloons
You can color the balloons using just about any method you prefer (paints, markers, colored pencils).
The suggested colors are yellow, blue, red, green and purple but you can of course use any colors you like.
As shown in the example leave a little white area towards the top of each balloon for the highlights (light reflecting from them). These will make the balloons look a bit more smooth and shiny.
Conclusion
Sometimes it can be fun to just draw something simple. Drawing balloons like the ones in these examples is fairly easy and beginner friendly.
If you enjoyed this tutorial and would like to try a few more like it see: