How to Draw an Eggplant Step by Step
This tutorial shows an easy way to draw an eggplant step by step. Each step includes simple line drawing or coloring examples.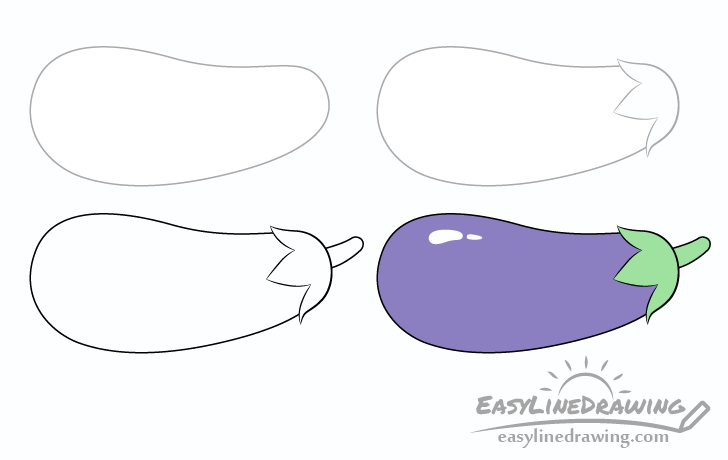 You can see a preview of each of the drawing stages in the above illustration.
Step 1 – Draw the Outer Shape of the Eggplant
Start the eggplant drawing with  simple outline of its shape. Eggplants tend to be wider towards their tip and narrower towards their base (side that is attached to the vine). Try and draw the eggplant with smooth curves without any sharp twists or edges.
Step 2 – Draw the Calyx
For this step add the calyx. The part at the top of the eggplant that includes its small crown like shape of leaves. You can draw these leaves with just a few curved lines.
You can erase any parts of the eggplant where the drawing is overlapped by the calyx.
Step 3 – Finish the Line Drawing
To finish the line drawing of the eggplant add the stem. Generally eggplant stems tend to be fairly thick so draw accordingly. You can also make the stem slightly wider towards the base.
Once done go over your drawing with darker lines. You can do this by either simply darkening them with the pencil or by going over them with a black pen or marker.
Step 4 – Color the Eggplant
For some very simple color (you can use paints, colored pencils or markers) make the eggplant itself purple and the calyx and stem green.
When coloring the eggplant leave one or two white areas for the highlights. These will help show that the it has a smooth and reflective surface.
Conclusion
An eggplant is a fairly interesting looking but easy to draw vegetable. Even with a simple line drawing an basic color with no shading you can still have a very nice looking drawing.
For more similar tutorials see: