How to Draw a Carrot Step by Step
This quick tutorial shows how to draw a carrot in just four steps going from a very simple line drawing to some basic coloring.
A carrot has a simple shape making it an easy vegetable to draw. If you are a beginner looking to draw something easy this may be a good tutorial for you to practise with.
You can see a preview of the included example in the illustration above. It's recommended that you start the drawing in pencil and make light, easy to erase lines. This will make it easier to do corrections if you happen to make a mistake.
Step 1 – Draw the Outer Shape of the Carrot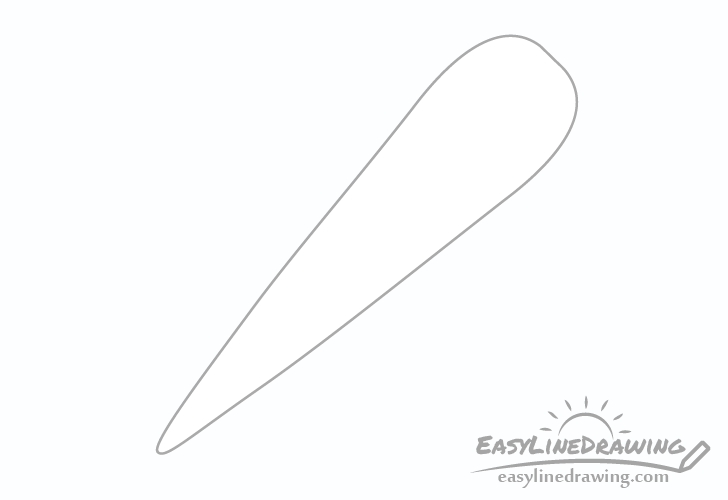 Start the drawing of the carrot by making a quick line sketch of its outer shape. Make it narrower at the bottom and wider as it goes up. It should then again get slightly narrower towards the very top.
Step 2 – Draw the Petioles Drawing
In this case we will not be drawing the carrot's leaves but instead just parts of the stems (also called petioles).
Make the stems fairly small and narrower in comparison to the carrot. Draw each one with a little bit of a curve and in a way where they slightly "fan out" as they go up. Also try and draw them to be of slightly different length.
First add the stems in the front and then draw in the ones behind them.
Step 3 – Finish the Line Drawing
For this last step of the line drawing add a bunch of little lines randomly placed across the surface of the carrot. Also try and draw these to be of different length. You can make some really short and others much longer.
Once done adding these small details you can trace over your drawing with a black pen, marker, or darker pencil lines.
Step 4 – Color the Carrot
To color the carrot you can use whatever medium you like. Paints, markers or colored pencils can all be good options. The coloring process itself is quite simple. Just make the carrot orange and the leaves green.
Once done with this step you should have a finished drawing of a carrot.
Conclusion
Drawing simple things like the carrot in this tutorial can be both fun and good practise for beginners. If you find these types of step by step drawing approaches helpful you can find plenty of other similar drawing guides here on EasyLineDrawing.
Try some of the following: