How to Draw a Pistachio Step by Step
This tutorial shows how to draw a pistachio nut in it's shell in four steps. It includes simple examples and quick drawing instructions.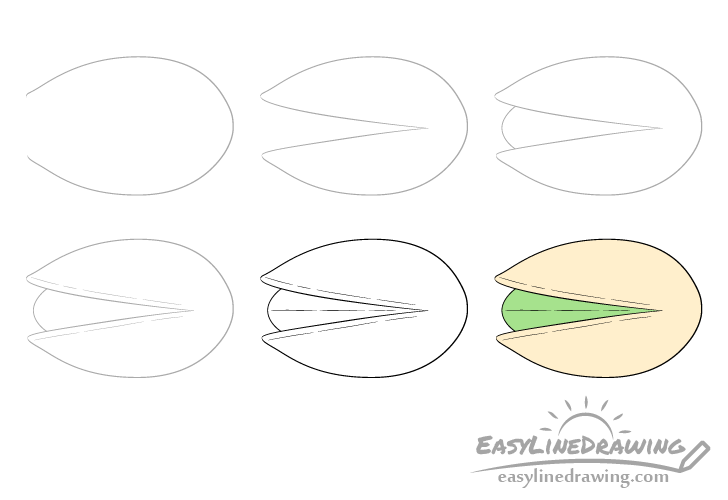 A preview of the drawing steps for the pistachio is shown in the example above. The tutorial is fairly straight forward and should be easy enough even for total beginners.
Start the drawing in pencil and make light lines that are easy to erase in case you make a mistake. You can darken them later on with a black pen or marker.
Step 1 – Draw the Outer Part of the Pistachio's Shell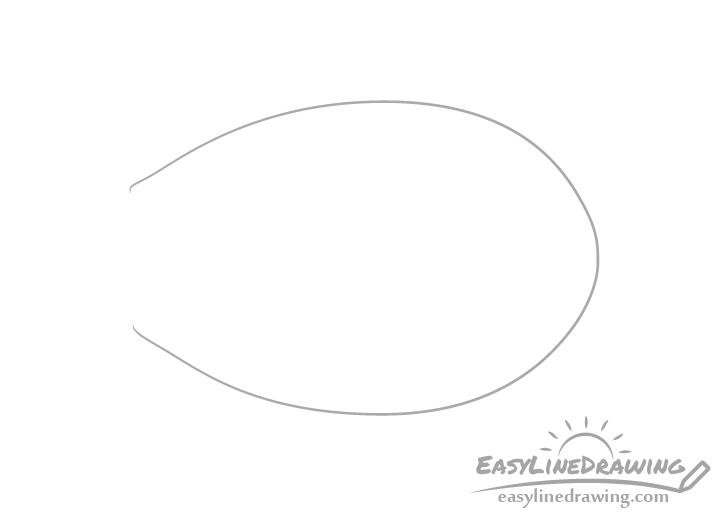 First outline the outer part of the pistachio's shell. Give it a bit of a bump on one side and an open area (as shown in the example) on the other.
The top and bottom of the shell don't need to be perfectly symmetrical but try and draw them somewhat close in shape and even in width.
Step 2 – Draw the Split in the Shell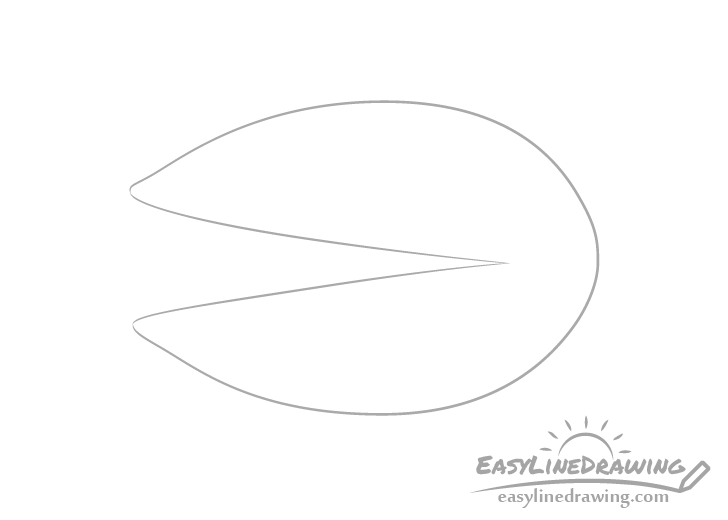 Going from the open part in the previous step add the split in the shell. You can outline this with just two curved lines that cut through most of it's length.
Just like the outer part of the shell the lines for the opening don't need to be symmetrical but try and make them similar.
Step 3 – Draw the Nut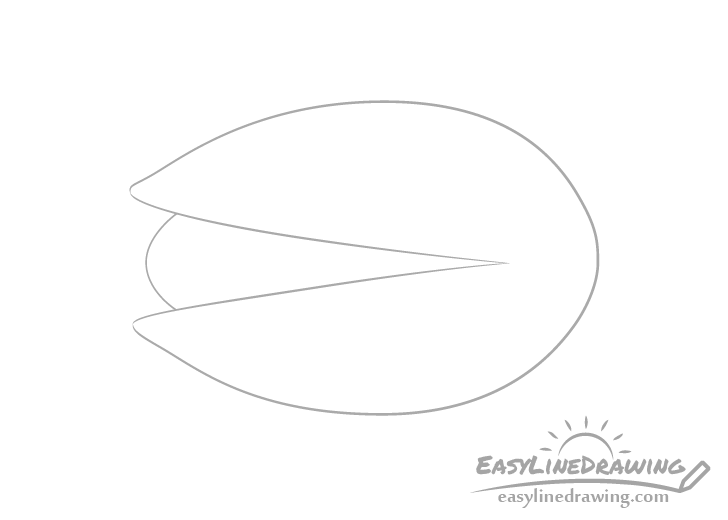 Coming out of the opening outline the actual nut. You can define it with just one curved line.
Step 4 – Draw the Shell Details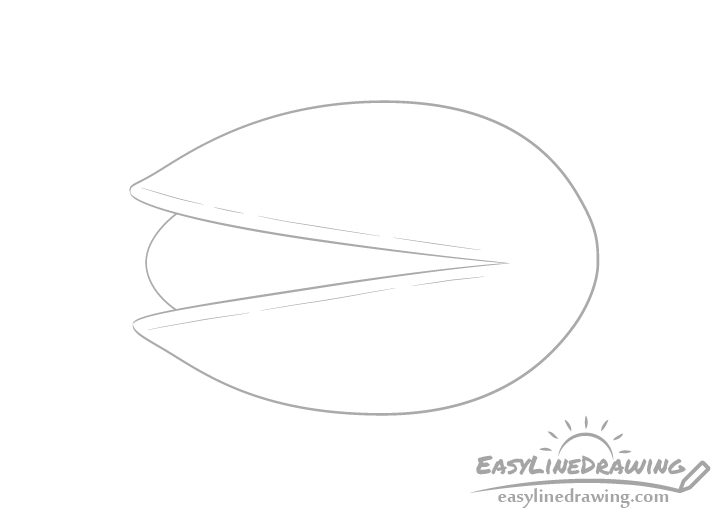 Around each side of the split in the shell draw a broken up line as shown in the example. Together these should create a bit of a "lip" around the opening.
Step 5 – Draw the Nut Details & Finish the Line Drawing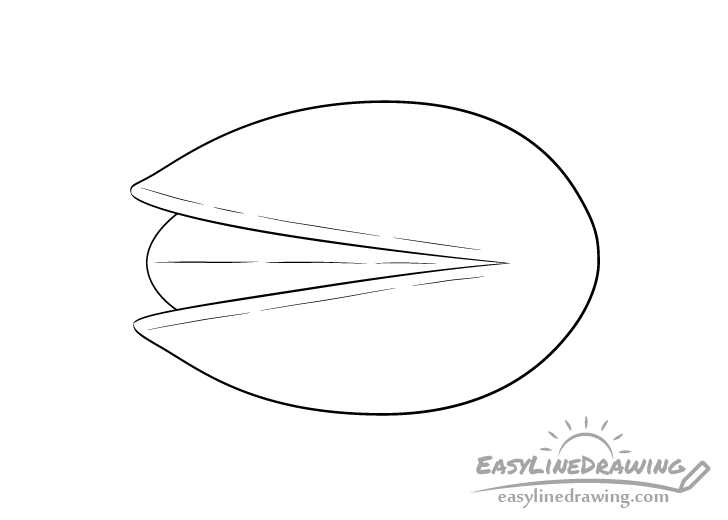 Draw another broken up line going through the middle of the nut to create a edge in that area.
Once done you can trace over your drawing with a back pen, marker or darker pencil lines. Jut be sure that your drawing looks good before doing so, especially with the pen/marker as those can make it difficult to do corrections afterwards.
Step 6 – Color the Pistachio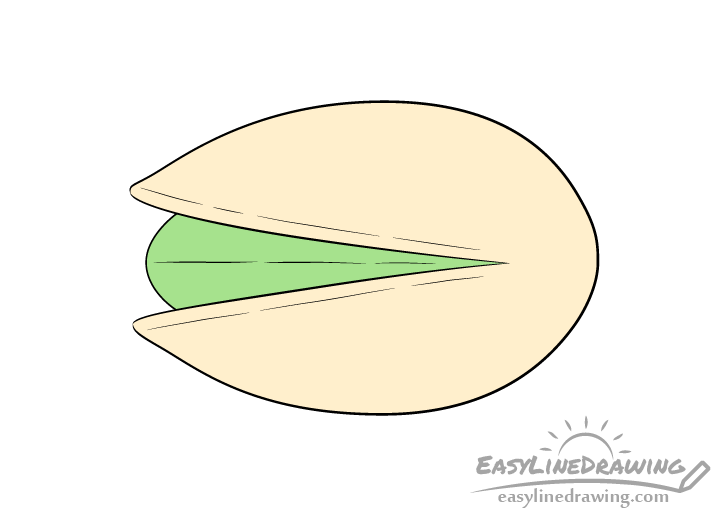 To color the pistachio paints, colored pencils or any medium that lets you create light colors can be good for the shell. You can use just about anything you like for the nut.
Make the shell a light yellow/brown and make the nut a yellow/green.
Once done coloring you should be finished with the drawing.
Conclusion
Drawing a pistachio from the side view as shown in this example can be pretty good for showing off it's shape. It's also fairly easy so hopefully you've note had any trouble following along.
If you've enjoyed this tutorial and want to try a few more like it also see the following: