How to Draw a Mushroom Step by Step
This fairly easy tutorial shows how to draw a mushroom. It includes a total of six steps with detailed illustrations and short explanations for each.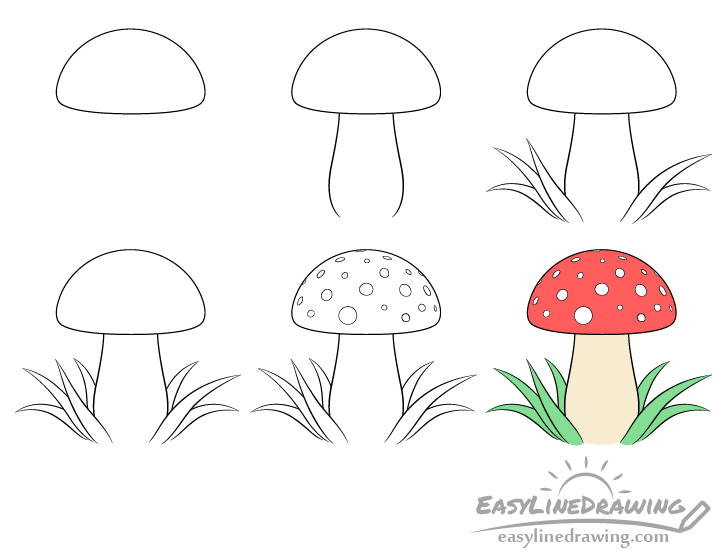 Start the drawing using a pencil and make light lines as you will need to erase parts of the mushroom before completing the line drawing.
Step 1 – Draw the Mushroom Cap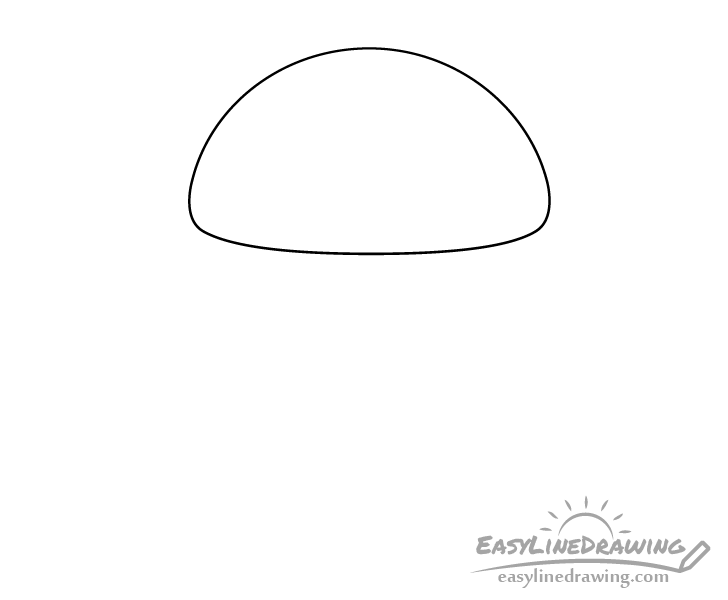 Draw the mushroom cap with a larger curve for the top and a smaller one for the bottom. It should look similar to the top of a burger bun.
Step 2 – Draw the Mushroom Stem
Make the stem narrower towards the top and wider towards the bottom/middle, then narrower again towards the very bottom. The two sides should basically be drawn with "wave like" lines.
Step 3 – Add Some Grass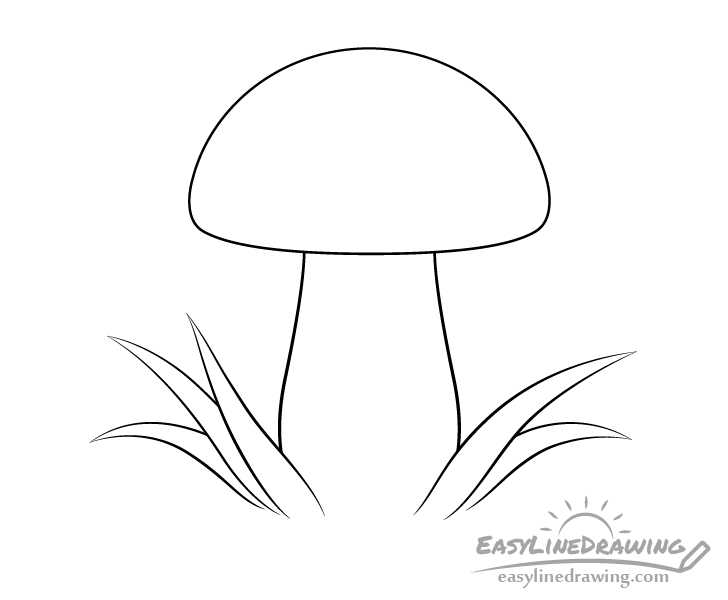 To make the mushroom look more interesting add some grass to its sides. To do this you can draw it right over top the mushroom stem and erase the parts covered by the grass afterwards.
Draw the grass with pointy tips narrower towards the top and wider towards the bottom middle, then again narrower towards the bottom (similar to the mushroom stem).
Step 4 – Add Some Background Grass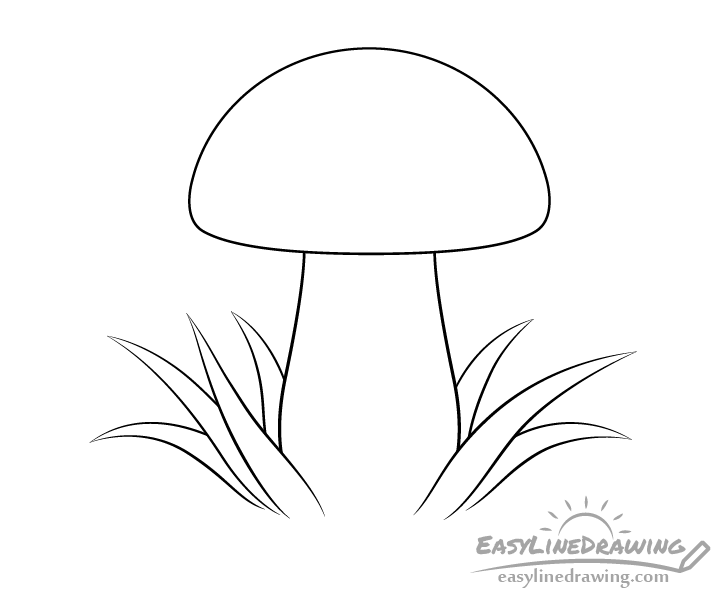 Add a few more blades of grass sort of peaking out from behind the mushroom. This will make it look like the mushroom has grass growing around it.
Step 5 – Add the Cap Spots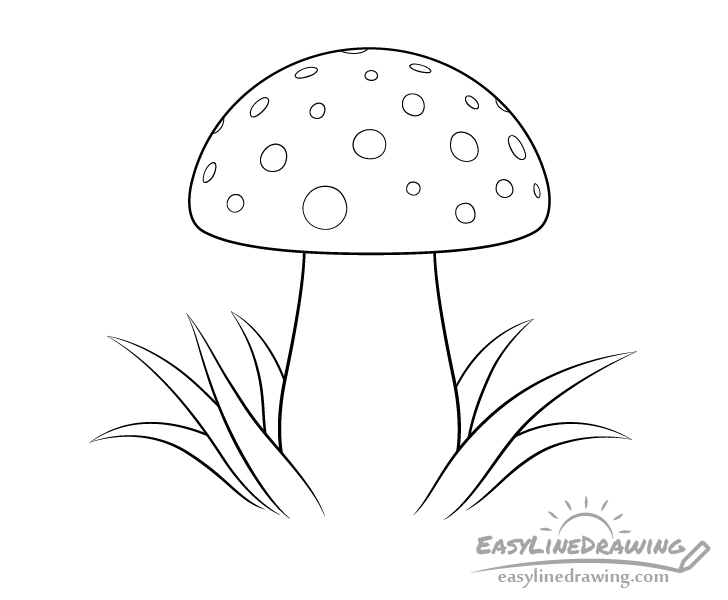 Finally add some spots of various sizes to the mushroom cap. These should be somewhat similar to ovals or circles in shape. Try and draw the spots in the middle closer to circles. Make the spots more oval and narrower the closer they are to the sides/top. This will make it look like the spots are actually wrapping around the cap and give it a more 3d look.
Once done drawing the spots go over your drawing with a black pen or marker or simply darken the lines with a pencil.
Step 6 – Color the Mushroom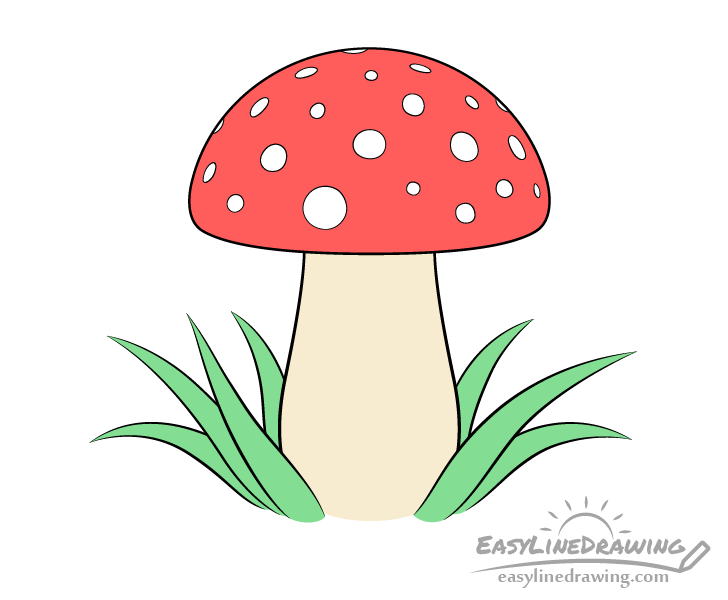 Finally color the mushroom by making the cap red (leave the spots white), the stem a light yellow/brown and the surrounding grass green. It may be a good idea to use colored pencils or paints for the stem as markers tend to be a little too bright. You can color the cap and grass with whatever you prefer.
Conclusion
A mushroom like this one is fairly easy to draw. The most challenging part of is probably the spots. If you want to simplify the drawing even further you can just leave those out and color the cap brown instead of red for a different type of mushroom.
For more similar tutorials also see: