How to Draw a Plant Pot Step by Step
This easy tutorial show how to draw a plant pot with a small plant in it in six steps. It includes simple examples and quick instructions.
You can see a preview of the drawing stages in the image above. The main focus of the tutorial is on drawing the pot so the plant will be fairly small and simple.
If you would like to draw a flower or a different type of plant you can see some of the following tutorials for ideas:
Start the tutorial in pencil and make light lines that are easy to erase in case you make a mistake. You can darken them later on with a black pen or marker.
Step 1 – Draw the Top of the Plant Pot
First draw the top of the pot. This should be shaped like a long rectangle with rounded corners. If you wish you can make the line that defines it's bottom very lightly curved.
Step 2 – Draw the Sides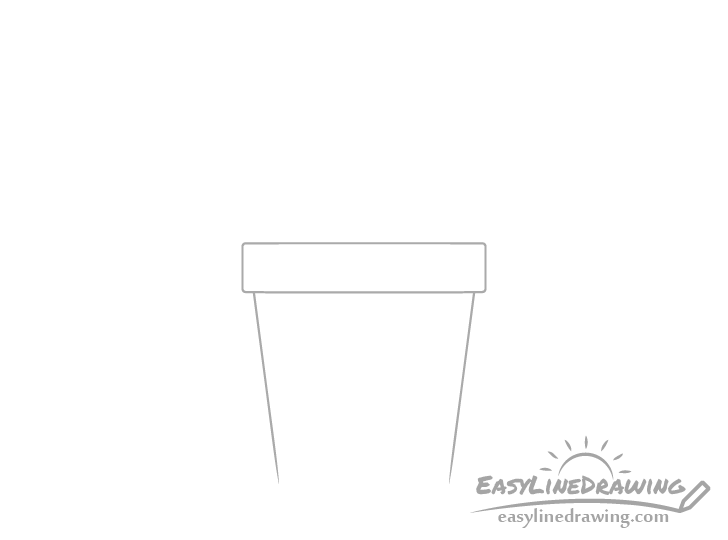 Going down from the top add the sides. Draw these as a pair of straight lines angled towards the center of the pot.
Step 3 – Draw the Bottom
Connect the two lines that define the sides with a smooth curve to get the bottom of the pot. With that you should have it's entire shape outlined.
Step 4 – Draw the Plant Side Leaves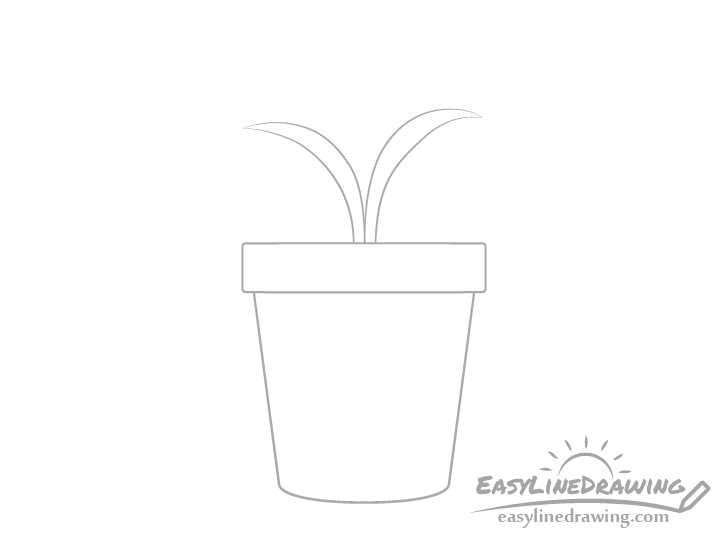 Coming out of the pot you can add a little plant. First draw a pair of leaves curving to the left and right. Make these thinner at the bottom, thicker in the middle and again thinner as they go towards their pointy tips.
If you want to draw a different plant you instead you can refer to the links provided at the start of the tutorial for some ideas.
Step 5 – Draw the Middle Leaf & Finish the Line Drawing
Add another leaf coming out from between the two in the previous step to finish the little plant (if that's the one you decided to draw).
Once done trace over your drawing with a black pen, marker or darker pencil lines.
Step 6 – Color the Plant Pot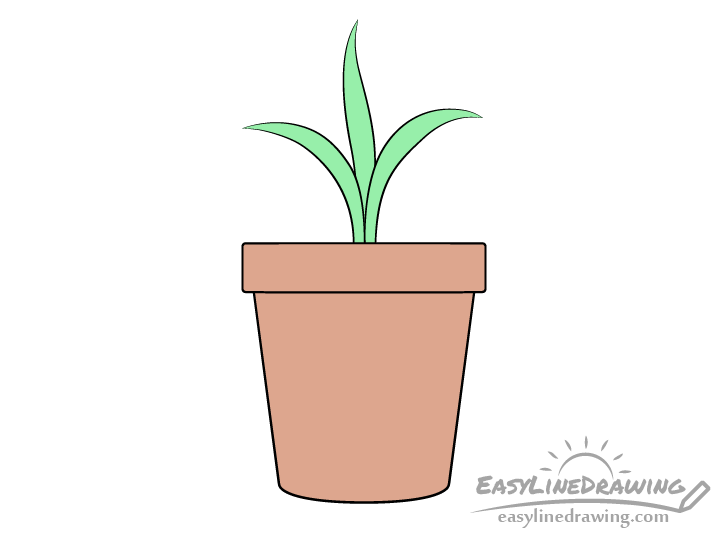 To color the drawing you can make the plant green and the pot brown. Use whatever coloring option you like or have available (paints, markers, colored pencils, etc…)
Once done with this simple step you should have a finished drawing.
Conclusion
The plant pot in this tutorial is very simple and hopefully you've found it easy to draw. In this case the plant inside it is basically a sprout but you can draw a larger plant if you wish. As was already mentioned you can check the links at the start of the tutorial for examples of other plants that can fit well into the drawing.
For other similar tutorials also see: