How to Draw a Doughnut Step by Step
This short tutorial shows how to draw a glazed doughnut with sprinkles in four easy steps. It provides simple examples and quick tips.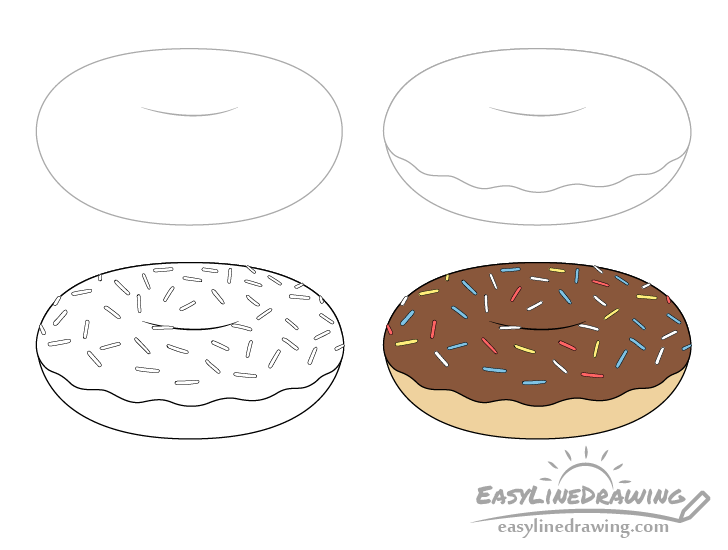 In this example the doughnut will have a chocolate glaze with sprinkles of various colors. You can see the drawing steps for it in the preview above.
Start this tutorial using a pencil and draw light lines that can be easily erased in case you happen to make a mistake. You can darken them once you have all of the parts of the doughnut outlined.
Step 1 – Draw the Shape of the Doughnut
Begin by drawing the outer shape of the doughnut. Generally doughnuts of this kind are round, as is this one. However, because it's being viewed on an angle you should draw it as an oval (like in the example).
Once you have the outline add a curved line towards it's upper middle to show the hole.
Step 2 – Draw the Chocolate Glaze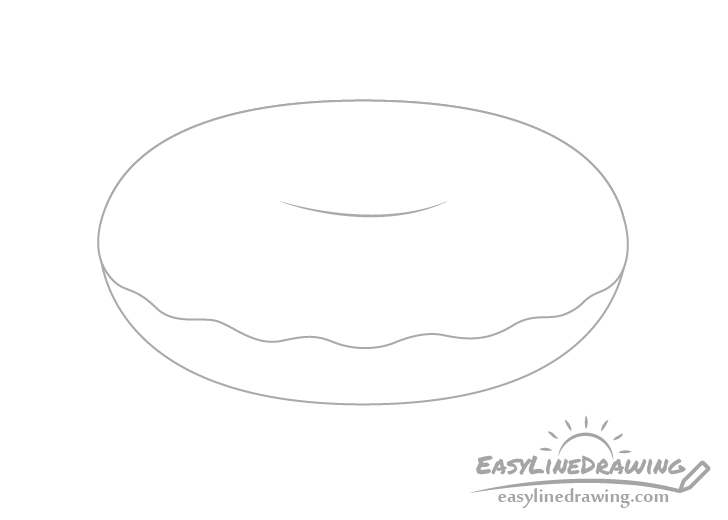 Draw the glaze by making a wavy line that curves along the shape of the doughnut. To show that it has some volume make the glaze go slightly beyond the edges of the doughnut. You can then erase the parts of the outline from the previous step that it overlaps.
Step 3 – Draw the Sprinkles
To finish the line drawing first add some sprinkles. These often tend to be shaped like thin little cylinders with rounded ends. Try and draw them at different angles and place a few overlapping the outer edges of the glaze, just erase a tiny bit of it's outline wherever you want to add one.
Once done with the sprinkles go over your drawing with a black pen, marker or darker pencil lines.
Step 4 – Color the Doughnut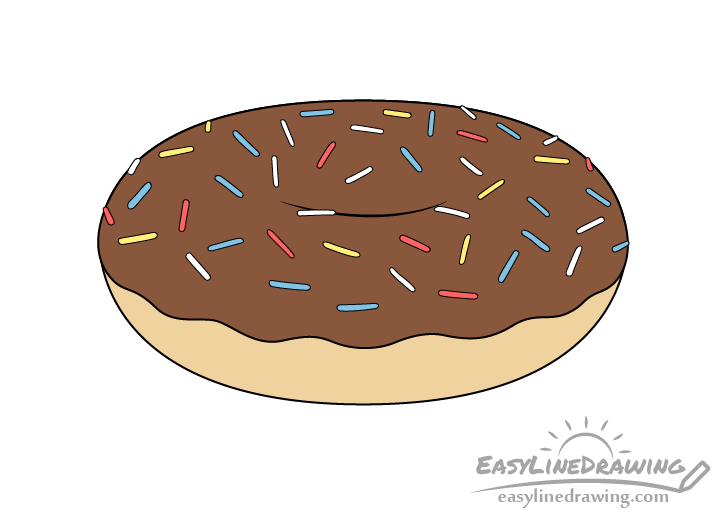 To color the doughnut you can use colored pencils markers or paints. In this case the glaze will be a fairly dark brown (to show that it's chocolate) and the dough will be a much lighter orange/brown. The sprinkles will be a mix of white, yellow, blue and red.
You can of course make the glaze and sprinkles just about any color you like. For example you can make the glaze pink (as is also very common for doughnuts) and just leave the sprinkles white (goes well with pink).
Whatever option you choose, once done coloring you should have a finished drawing of a glazed doughnut.
Conclusion
The doughnut in this tutorial is quite simple but also has enough details (with the glaze and sprinkles) as not to look boring. Hopefully you've found it fun to draw and haven't had much trouble following along with the steps.
If you like these type of simple drawing guides you may also want to try some of the following: