How to Draw a Hot Dog Step by Step
This tutorial shows an easy way to draw a hot dog in six steps. It includes simple illustrated examples and quick drawing instructions.
If you follow the suggestions in the steps you will need to do a little bit of erasing so be sure to start the tutorial in pencil and draw light lines until you are almost done. You can trace over your drawing with darker pencil lines or a black pen/marker afterwards.
Step 1 – Draw the Hot Dog Bun
Begin by drawing the outer shapes of the two halves of the bun. First outline the half in the front and then add the one behind it. Also try and make the overall shape of the bun slightly curved.
Step 2 – Draw the Sausage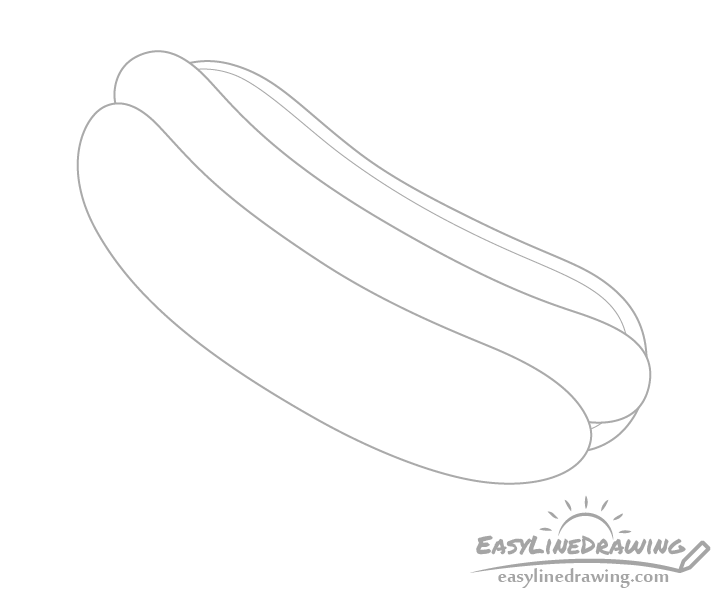 Draw the sausage between the two halves and erase the parts of the bun that are going to be covered by it. You can also add a line to show the edge of the far side of the bun as shown in the above example.
Similar to the bun make the sausage slightly curved as well.
Step 3 – Draw the Tip of the Sausage
Sausages tend to have some wrinkles on their tips. You can show these with just a few short curved lines as in the example above.
Step 4 – Draw the Mustard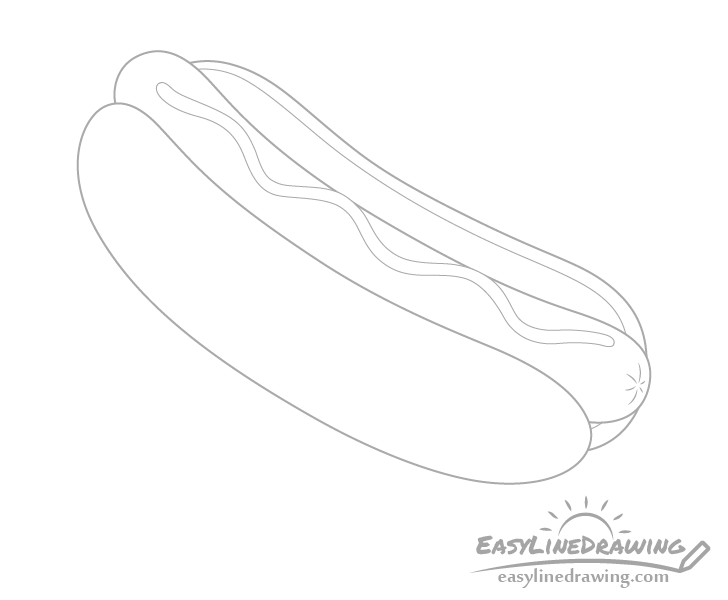 On top of the hotdog add the mustard. Draw it shaped like a wave going from one end of the sausage to the other.
Try and keep these waves fairly smooth so that your drawing looks nice.
Step 5 – Draw the Ketchup
Draw the ketchup similar to the mustard but make it's sort of "weave" in between it.
To make things easier you can draw the outline of the ketchup right over top of the mustard and then erase the parts where they overlap. In this case the mustard will be on top so erase parts of the ketchup.
Once done go over your drawing with darker pencil lines or a black pen/marker.
Step 6 – Color the Hot Dog
You can use paints or colored pencils to color the hotdog as follows:
Light orange/brown for the outer part of the bun.
Light yellow/brown for the inside of the bun (where its cut open)
Pink/brown for the sausage
Yellow for the mustard
Red for the ketchup
Conclusion
Hotdogs are a pretty popular food and they can also be pretty easy and fun to draw. If you enjoyed this tutorial you might also like the following: